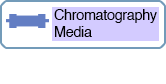 CHT Ceramic Hydroxyapatite (Chromatography Media)
CHT* ; Ceramic Hydroxyapatite has been developed by PENTAX (distributed by Bio-Rad Laboratories) as a chromatography media which is a stable form of hydroxyapatite. CHT is a spherical porous bead and four different particle sizes of 10, 20, 40 and 80um are available.
Approved products, models and indications may differ from country to country.
Please contact us for detail.
Features of CHT chromatography media.
As an amphoteric ion exchange (mixed mode ion-exchanger), CHT is ideally suited for use in protein purification and separation. It is currently the standard process chromatography media for the purification of bio-pharmaceutical drugs in countries all over the world.
This superior and cutting-edge product was adopted for use in the Ministry of Education, Culture, Sports, Science and Technologies National Project on Protein Structural and Functional Analyses (the Protein-3000 Project) for use in high-throughput purification work.
※ CHT is an OEM product for Bio-Rad Laboratories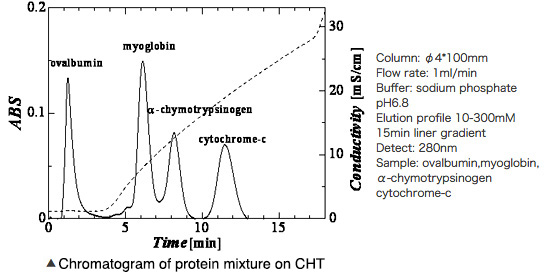 Distributor
Bio-Rad Laboratories, Inc. Life Science Group
TEL: 1-510-741-1000
1-800-4-BIORAD (1-800-424-6723)(U.S. only)
www.bio-rad.com
References
Virus
Kurosawa Y, Kurane I and Yamamoto A. Observation of Japanese encephalitis virus particles on ceramic hydroxyapatite by scanning electron microscopy. Med Biol. 153 (12), 607-610, 2009.
Kurosawa Y, Saito M, Kobayashi S and Okuyama T. Purification of dengue virus particles by one-step ceramic hydroxyapatite chromatography. World Journal of Vaccines. 2, 155-160, 2012. DOI: 10.4236/wjv.2012.23020
Kurosawa Y, Yamamoto A, Kurane I and Nakayama M. Development of a purification method for Japanese encephalitis virus particles using ceramic hydroxyapatite chromatography. Med Biol. 156, 410-416, 2012.
M. Saito, Y. Kurosawa and T. Okuyama. Scanning electron microscopy-based approach to understand the mechanism underlying the adhesion of dengue viruses on ceramic hydroxyapatite columns. PLoS One 8(1), e53893, 2013. DOI: 10.1371/journal.pone.0053893
Kurosawa Y, Saito M, Yoshikawa D and Snyder M. Mammalian virus purification using ceramic hydroxyapatite. Tech Note Bulletin 6549, Bio-Lad Laboratories, Inc. 2014.
http://www.bio-rad.com/webroot/web/pdf/lsr/literature/Bulletin_6549.pdf
Antibody
Moro A, Yoshitake T, Ogawa T and Ichimura T. Single-step purification of pepsin-derived monoclonal antibody fragments from crude murine ascitic fluids by ceramic hydroxyapatite high-performance liquid chromatography. J Biochem. 144(6), 733-739, 2008. DOI: 10.1093/jb/mvn128.
Saito M, Kurosawa Y and Okuyama T. Purification of anti-Japanese encephalitis virus monoclonal antibody by ceramic hydroxyapatite chromatography without Proteins A and G. Hybridoma (Larchmt). 31(1), 68-71, 2012. DOI: 10.1089/hyb.2011.0072.