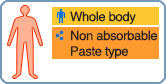 Maximum mechanical strength in a day
"BIOPEX-R" is calcium phosphate cement which consists of powder and the liquid components. They are mixed in the operation room to deliver with an injector or by manually molding. It reaches compressive strength as high as 80 MPa in 24 hours after implantation. As a result, reduction of ambulation time and improvement in QOL (Quality of Life) are expected.
Approved products, models and indications may differ from country to country.
Please contact us for detail.
Features of BIOPEX-R
1. Early acquisition of mechanical strength
BIOPEX-R achieved 80 MPa in compressive strength in a day.
2. Easy handling with enough injectable time to deliver.
Operability was improved by extending injectable time.
Intended use or effect
Remedy of bone defects
Repair and support of fixation for the fractures requiring reduction
Fixation of metallic devices i.e. metallic screws
Gap filling between the cement-less artificial joint and the host bone
Reference