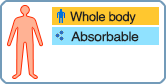 "ReFit" is a bone graft substitutes made of hydroxyapatite and collagen composite.
Approved products, models and indications may differ from country to country.
Please contact us for detail.
Features of ReFit
Flexible operability
ReFit becomes elastic when hydrated. As a result, it can be packed or placed to bony voids without leaving any gaps. It can be easily processed with a scalpel or scissors.

Structure and composition similar to human bone
Structure and composition was approximated to human bone up to nano-level.
Absorption and replacement in vivo
ReFit is incorporated to the bone remodeling cycle after implantation to be replaced to bone tissues.
Promotion of bone regeneration
ReFit is confirmed to be superior in bone regeneration by clinical trial.
※Compared with the similar products when filled in bone defects caused by bone disease like bone tumor, trauma or after harvesting autograft.
Physical properties

Components
Inorganic component:Low crystalline Hydroxyapatite
Organic component: Type I collagen (derived from porcine dermis)
Composition
(weight ratio)
Hydroxyapatite (HAp):ca 80wt%
Collagen (Col):ca 20wt%
Porosity
95%
Pore diameter
100−500μm
Clinical Trial
Clinical trial of ReFit was conducted in accordance to "Guidelines for clinical test for medical devices (Medical device GCP)" Comparative study was performed using a mormal β-tricalcium phosphate as a control device for absorbable bone graft.
■Period of observation:24 weeks post operation 
■Facilities for clinical trial: seven facilities 
■Number of cases: ReFit 63 cases, β-TCP:63 cases
Evaluation of efficacy
Radiographic study revealed that ReFit group was superior to β-TCP group regarding bone formation in 18 weeks and thereafter. In 24 weeks, remarkable efficiency rate of ReFit group by filling volume was 50% or higher for every filling volume irrelevant to the volume (71.4% for filling volume 10-30mL). On the other hand for β-TCP group, remarkable efficiency rate decreased with increasing the filing volume (0% for filling volume 10-30mL)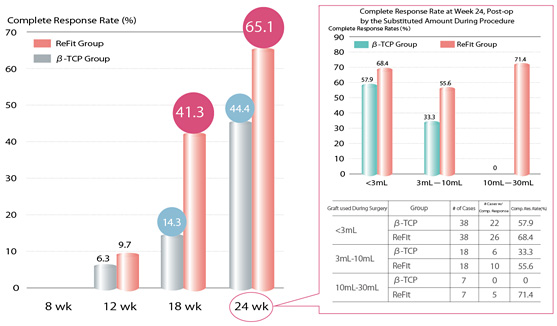 Product Line-up
| | | |
| --- | --- | --- |
| Product code | PB-101010 | PB-103020 |
| Size | 10×10×10mm | 10x30x20mm |
| Qty/package | 1 pc(1.0mL) | 1pc(6.0mL) |
【Contraindications and prohibitions】
・DO NOT reuse
・Allergic subjects with medical history of anaphylaxis, severe allergic subjects, or patients with allergy against drugs containing porcine collagen.